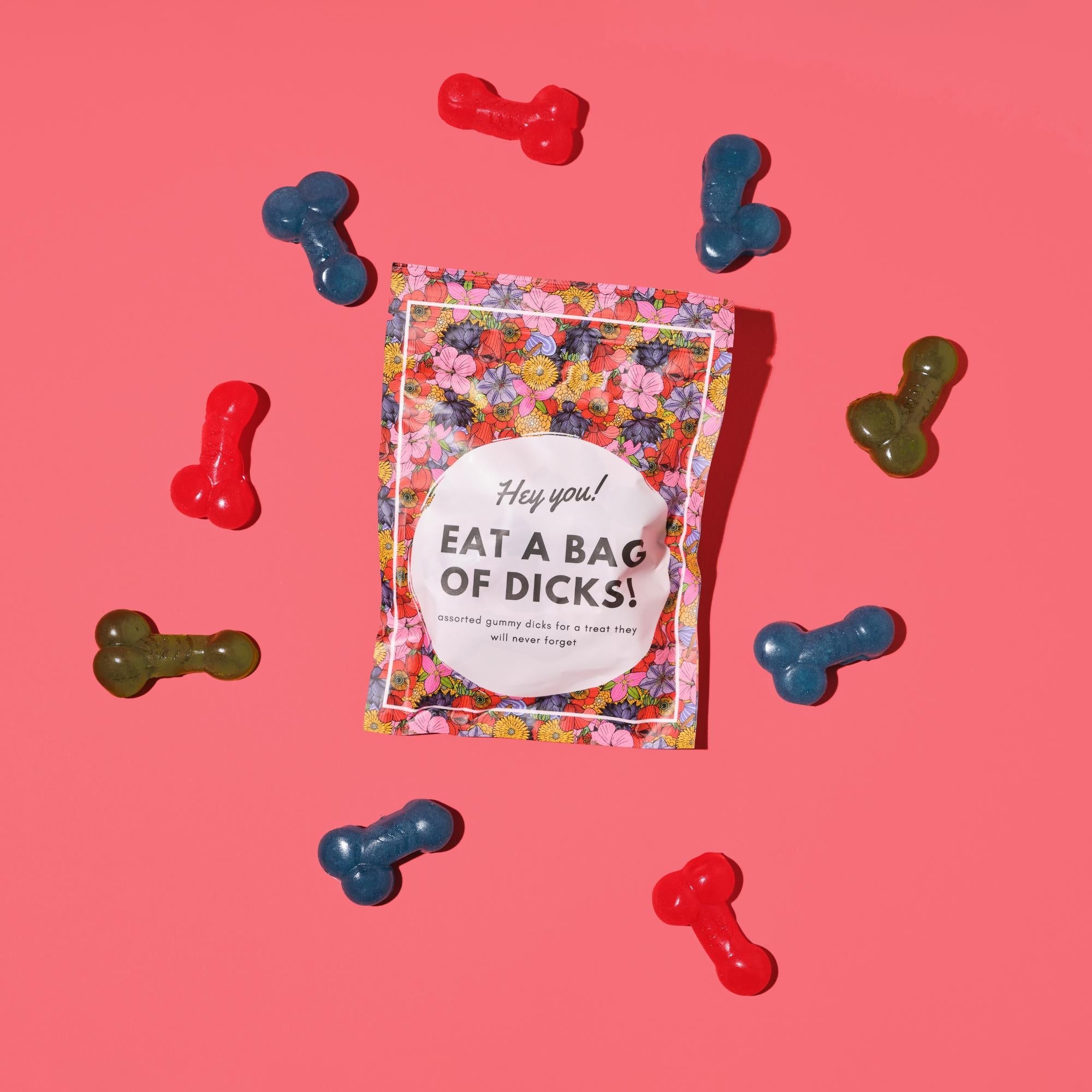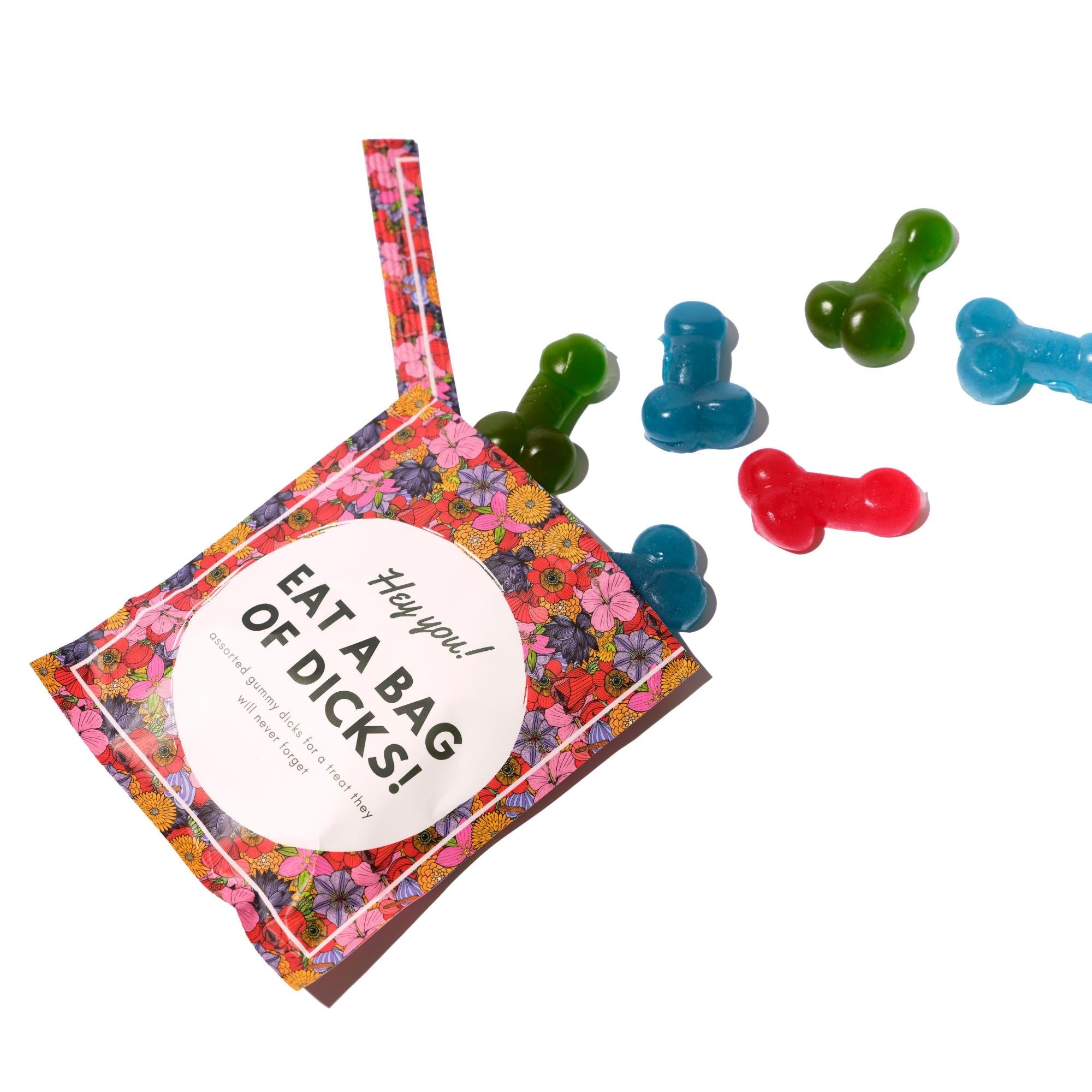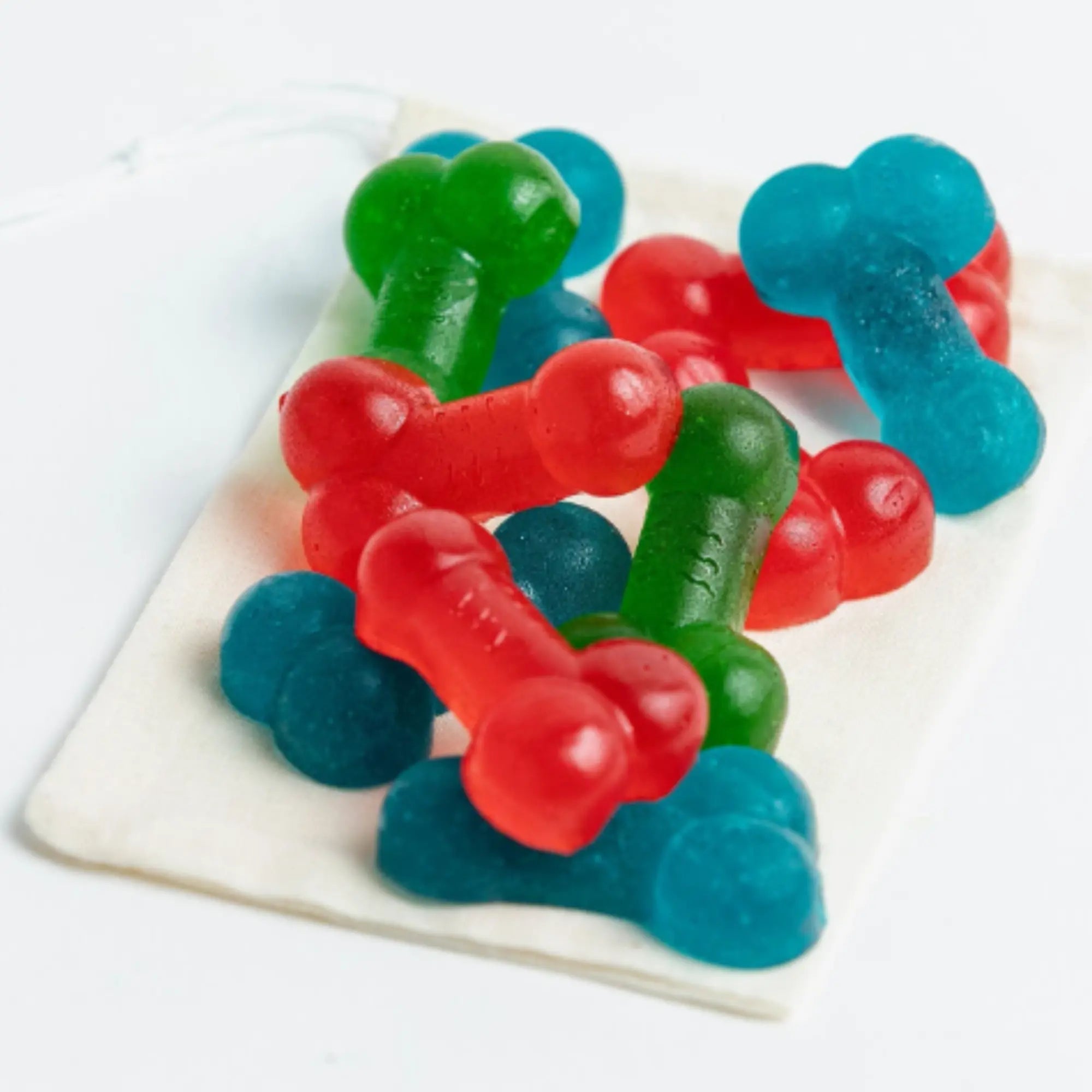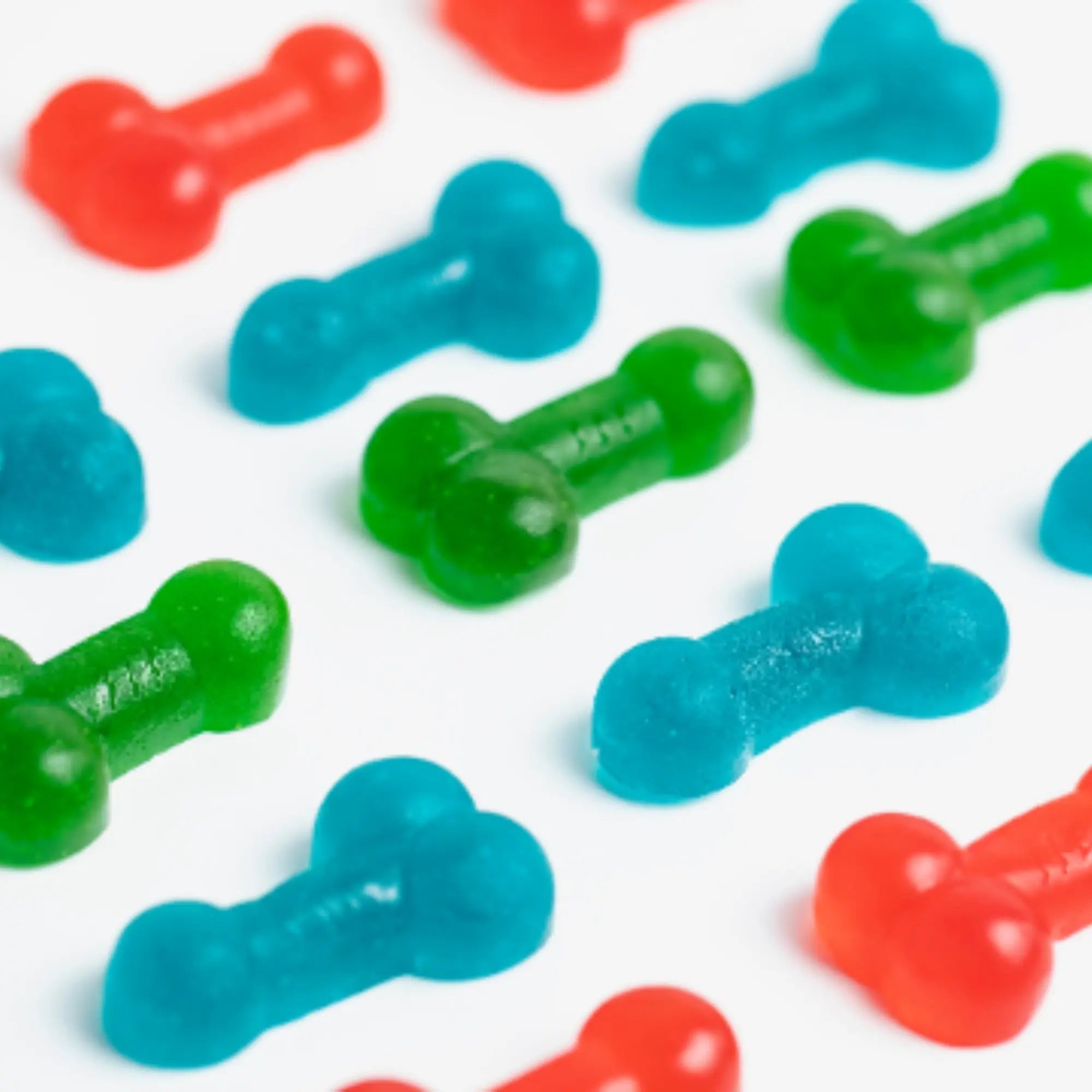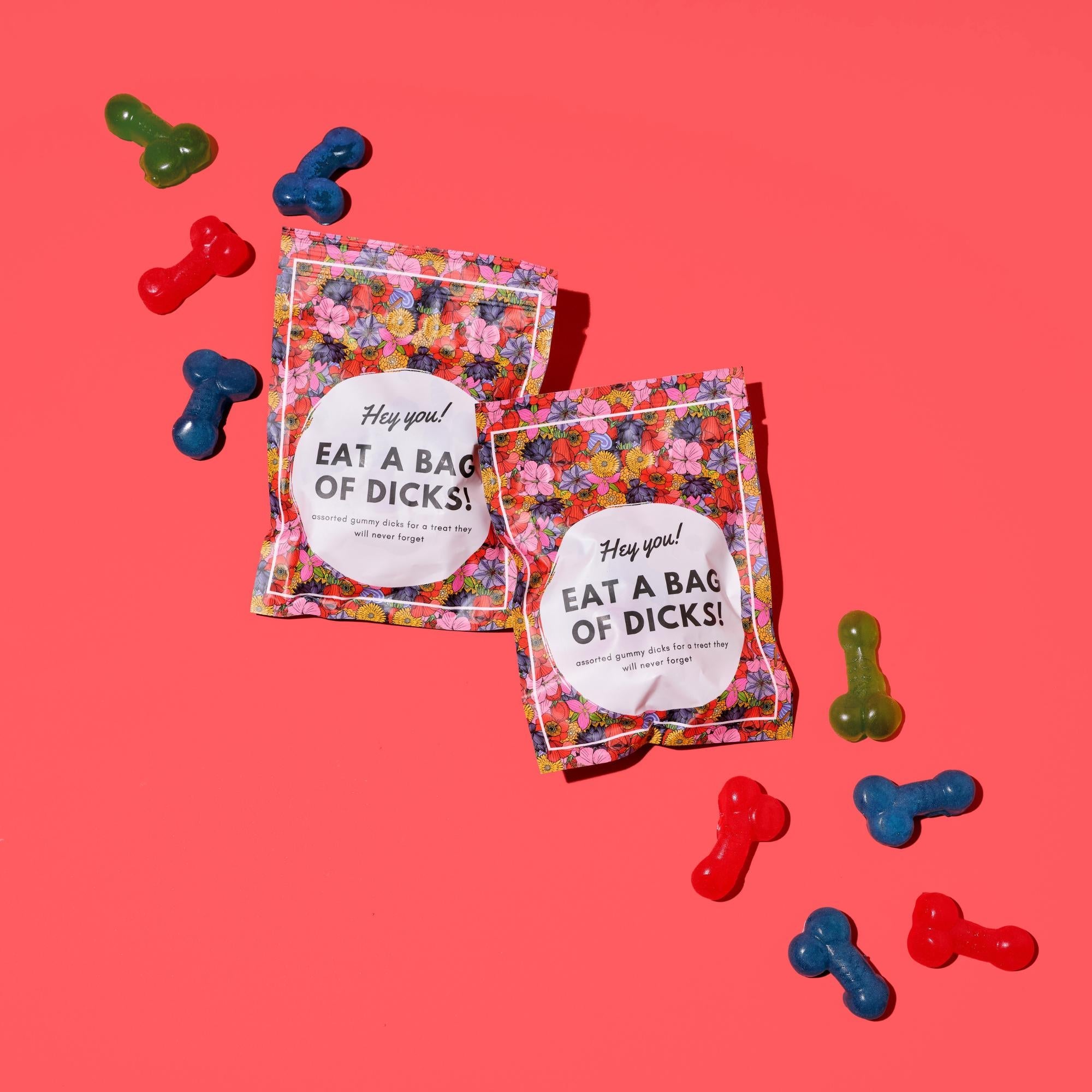 Bag of Dicks: Gummy Penis Candy
---
If you're in the market for a mouthful of delicious dick shaped gummies, have we got good news for you!

Whether you are sending these to a friend, spouse, or just enjoying a handful for yourself, our candy bag of dicks is easily one of the easiest and cheapest ways to get your hands on so many delicious male genitalia.

We send our Bag Of Gummy Dicks in tightly sealed plastic then put in a pretty looking burlap sack bag, to ensure protection, and are always sent flaccid to ensure softness.

What these dicks lack in size, they make up for in spirit! Order yours now! 

A gift from the large, affluent, ultra-orthodox gummy bear community. They're not your traditional gummy dick candy. These are the world's finest candy dicks! We have spent hours, weeks, and years perfecting the perfect dick for anyone to shove into their mouth. Filling your mouth or someone else's mouth with penis candy can seem scary at first, but don't fret! We have created an easy and anonymous way where you can get dicks into the hands and mouths of anyone you please! Everyone deserves the chance to eat a dicks! You can even include double and triple the dicks as well as your own personalized messages on the bag of dicks!

Sending a bag of gummy dicks to a friend or family member can be a hilariously cheeky and unexpected way to add some laughter to their day. Whether it's a close friend with a playful sense of humor or a family member who appreciates lighthearted pranks, this unusual gesture is sure to bring a smile to their face. The gummy dicks, often made with colorful and chewy candy, offer a combination of amusement and deliciousness. It's a memorable way to let someone know that you're thinking of them and want to inject a little mischievous fun into their life.

When it comes to bachelorette parties, a bag of gummy dicks can be a hilarious addition to the celebration. Bachelorette parties are all about letting loose, having a great time, and creating lasting memories with friends. The inclusion of gummy dicks adds a playful and risqué element to the festivities, making everyone giggle and enjoy the party even more. Whether they're used as decorations, party favors, or just a humorous snack, these edible delights are bound to be a hit among the guests. They serve as a lighthearted reminder of the fun and excitement that comes with celebrating the bride-to-be's upcoming nuptials.

Give it a shot and see how delicious these little peckers really are!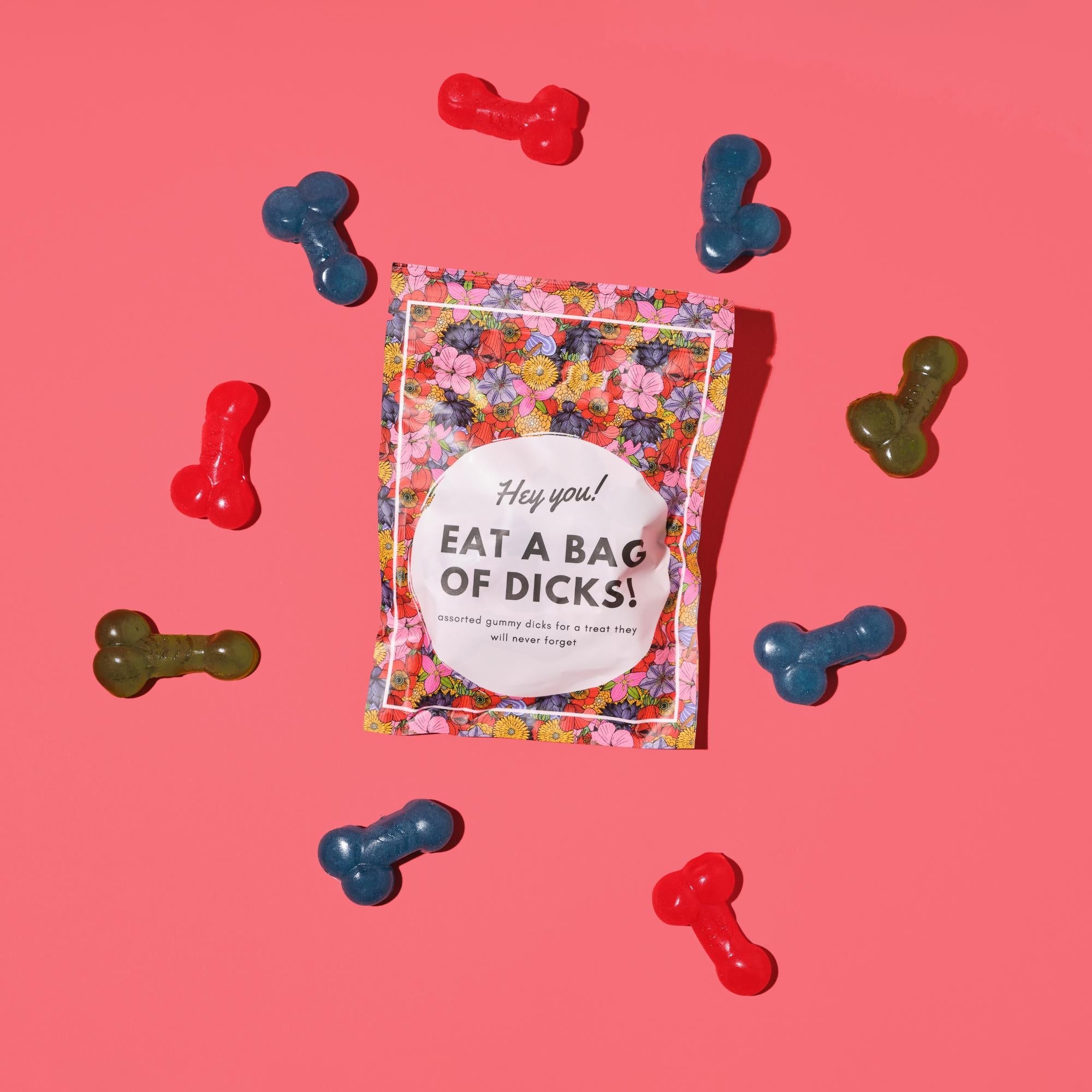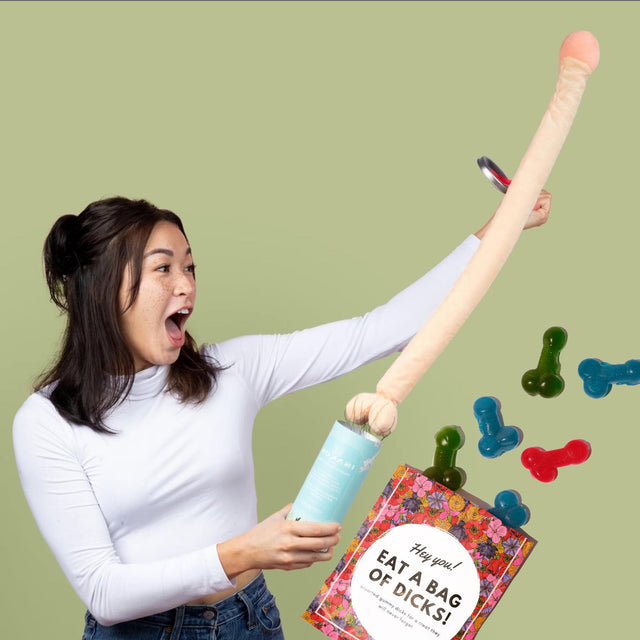 Double Dick'em
Delicious and Offensive Bag of Gummy dicks
Best Seller C*ck Shot Prank
Free Custom Message
15% off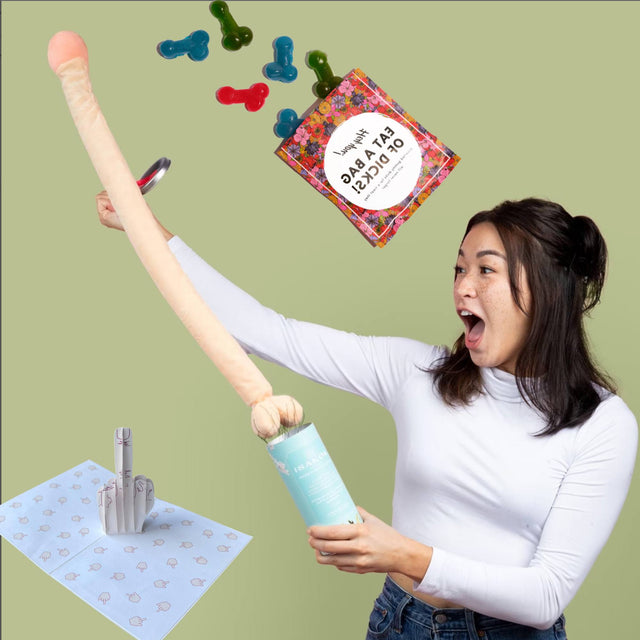 "The Kitchen Sink
The Ultimate Bundle
Big Bag of Dicks
Cock Shot Prank
Middle Finger Card
Free Custom Message
Free 2 Day Shipping
30% Off
Where You've Seen Us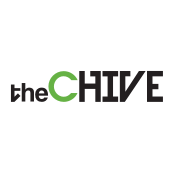 Yup, you can send a bag of Gummy dicks to ANYONE
Send A Bag Of Gummy Dicks
Or don't, we don't care! Dick At Your Door is here for one thing only - to provide the best f*cking gag gifts you can get.
Why our gummy dicks?
These edible little penises make a great addition to any gift, gift basket, bridal shower and other event.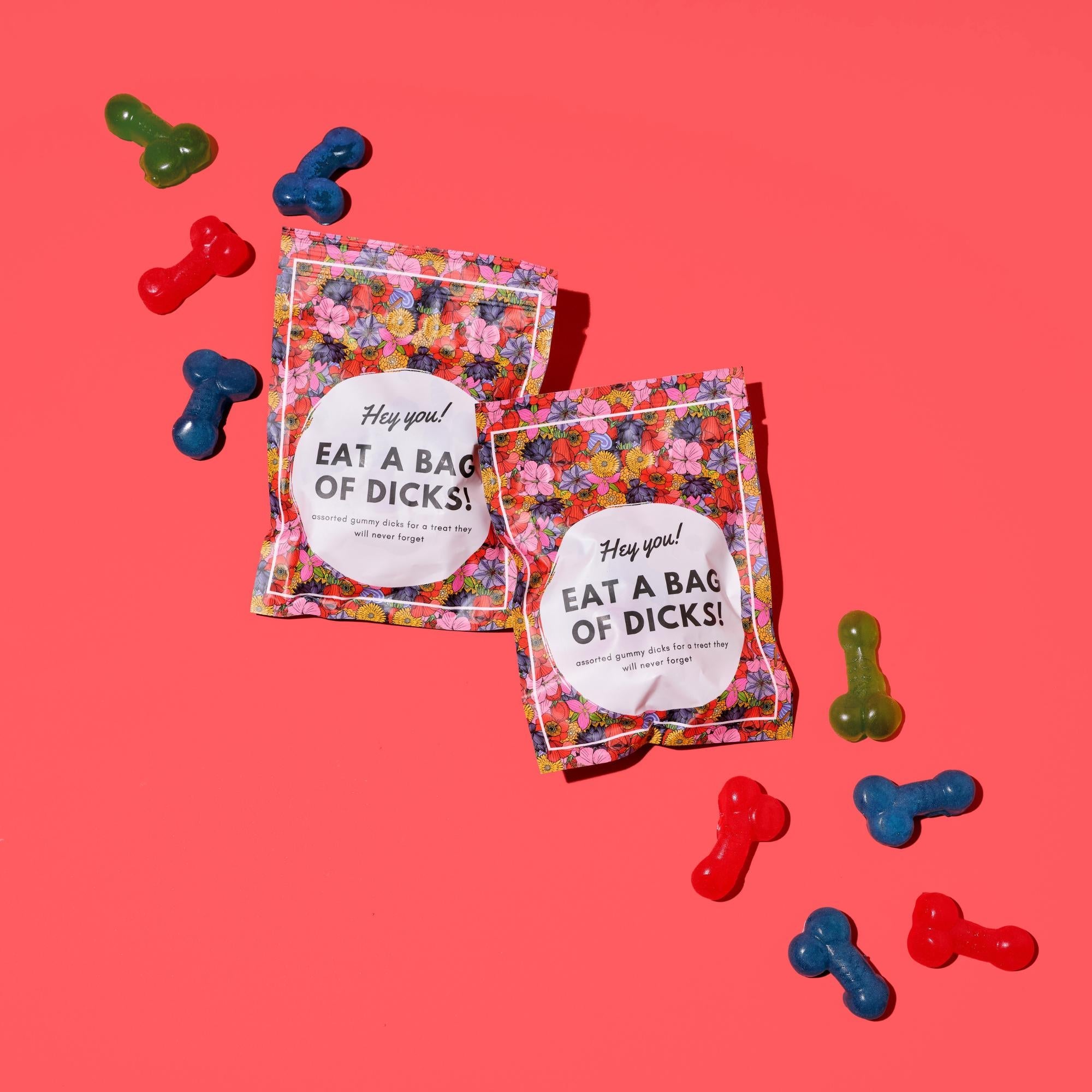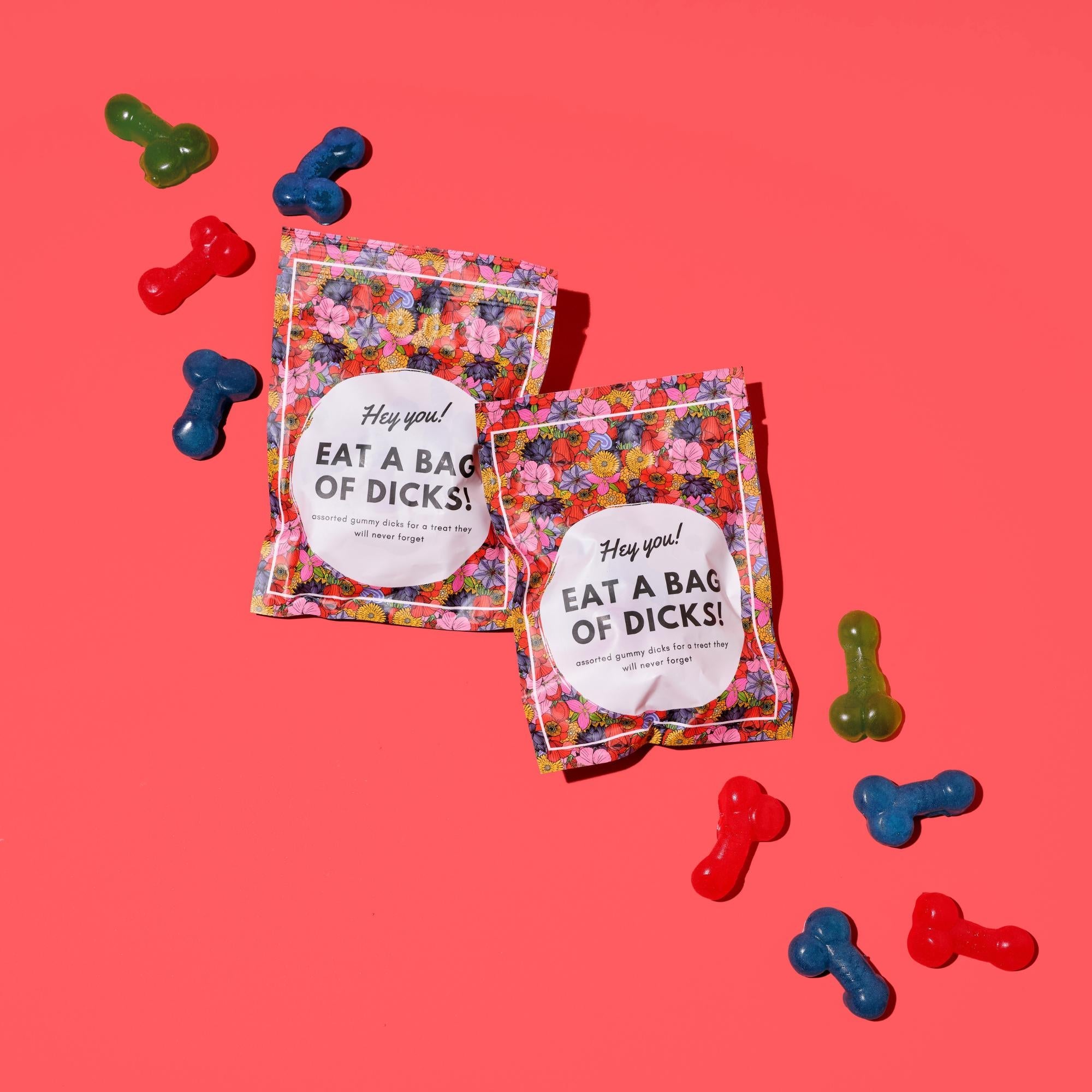 New Designed Bags
These pouches are the prefect cute and delicate way to hand deliver gummy dicks.
Tasty Treats
Multiple colors and flavors just for the bride, or guests.
Add to a Box
You can add these gummies to our prank packages as well.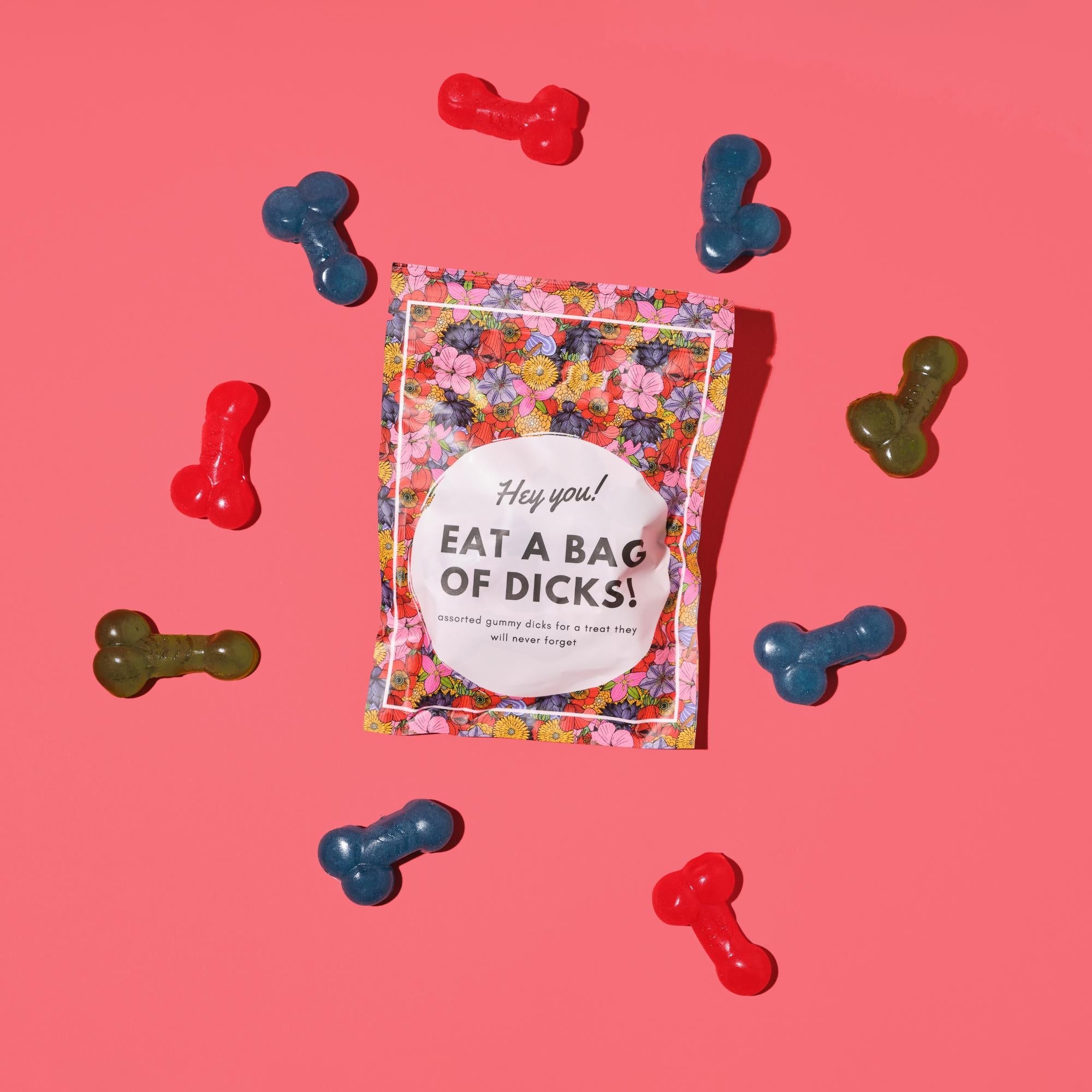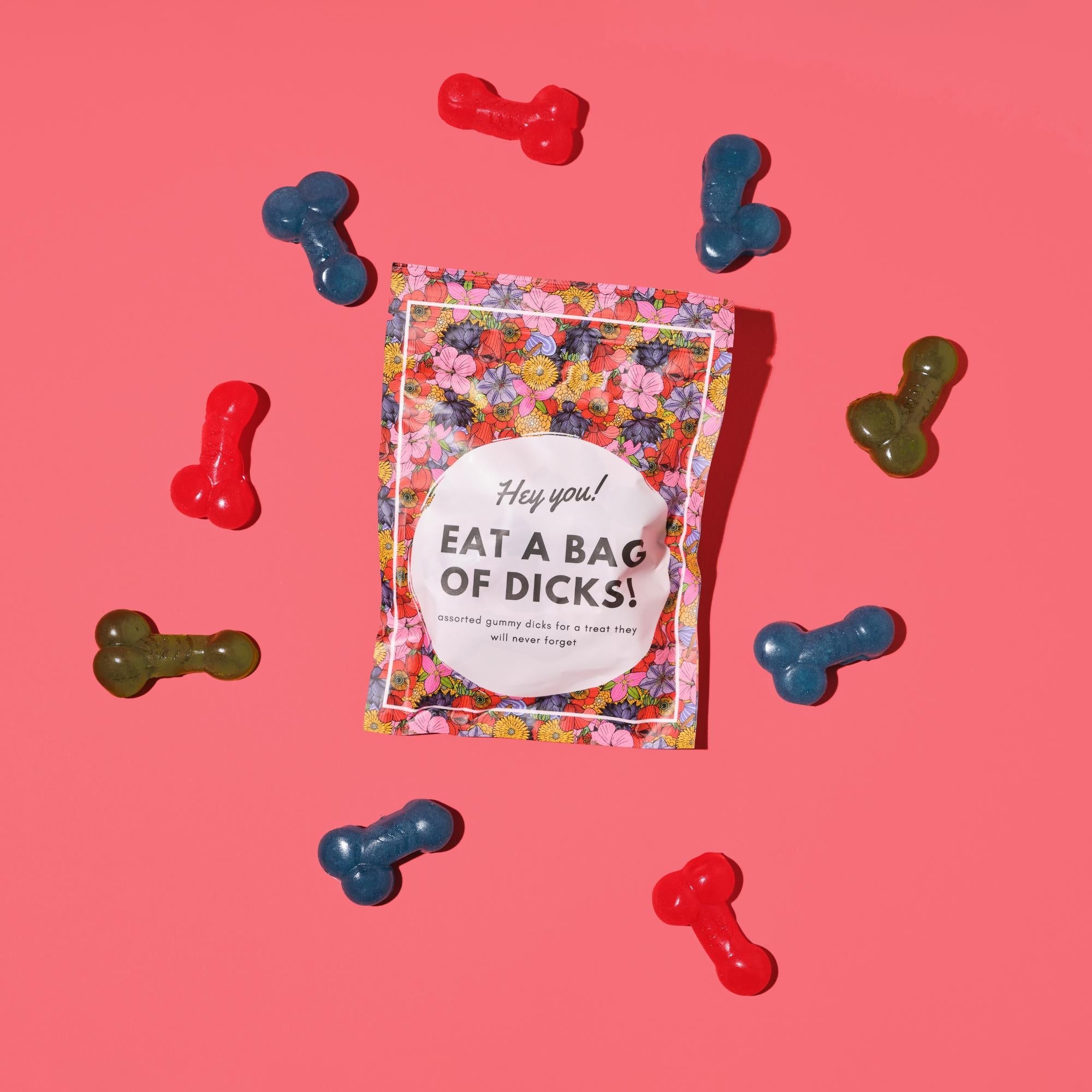 Cheers to making gift giving that much better
Let us gingerly touch our tips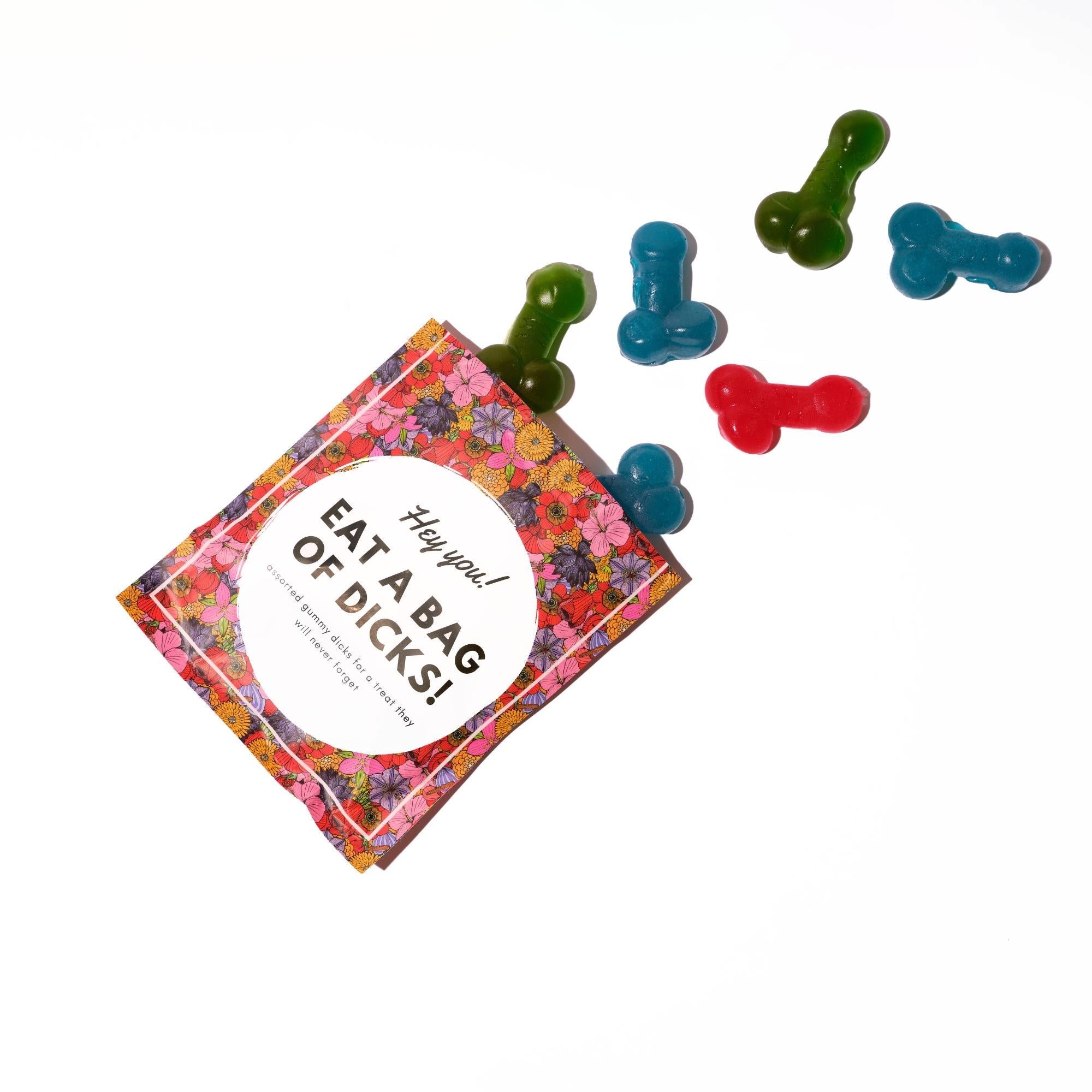 Let's explain how it works
FAQ
Use this text to share information about your product or shipping policies.
Yes, we ship all over the world. Shipping costs will apply, and will be added at checkout. We run discounts and promotions all year, so stay tuned for exclusive deals.
How long will it take to get my orders?

It depends on where you are. Orders processed here will take 5-7 business days to arrive. Overseas deliveries can take anywhere from 7-16 days. Delivery details will be provided in your confirmation email.
Our customer support is available Monday to Friday: 8am-8:30pm.
Average answer time: 24h
Great use for exercising freedom of speech!
Most of my purchases are sent to public or government officials that have managed to get on my radar for one reason or another. While they are sent anonymously meaning I have no knowledge if they arrived or not, I am actually anticipating a day when I'm prosecuted for sending obscene material through the mail to the recipient only to demonstrate to the public how deserving they are to get it.
If you're a cop or city official that received one of these gifts, there's a possibility that it came from me and you'll know why you earned it.
Fabulous gift
I order two, surprise my two friends, they find it so hilarious and they love it!
Email review request and the irony
The irony of this email I tried to email support never heard back. Got one half reply from Adam but issue was never addressed lol.
Of course, we'd love your feedback on how everything went! Good or bad, it helps us get better. Plus you'll get a juicy coupon for helping us out. That's a win/win.
Have an issue with your order? Shoot us a quick email before reviewing so we can sort you out and make everything peachy keen.
Amazing!
My friend was hysterical with laughter when she opened the penis in a can! I will definitely order for other friends! A++++
Fast service and my friend loved her surprise! 😂